View some of our members...
Rochelle Rochelle
(Hazel Green, Wisconsin, United States)
Living in the Tri-state area of Iowa, Illinois and Wisconsin gives me the opportunity to e...
Tarana Taylor
(Houston, United States)
Tarana Taylor is a classically trained diverse pianist highly experienced in solo, vocal,...
Yafei Lin
(Arcadia, Claremont., United States)
Master's Degree in Piano Performance, CSU Northridge Over 15 years collaborative experi...
Nadine Shank
(Amherst, United States)
Professor of Piano and Collaborative Piano at the University of Massachusetts Amherst 198...
Maria Teresa Sierra
(San Diego, United States)
I'm an International performer, charmber music and piano teacher with a wide repertoire of...
Click here for full directory of members...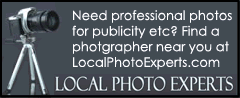 Register your chamber group or search for chamber groups near you.
It's free and easy to use...
| | |
| --- | --- |
| Click Here | |
Piano Accompanists - Recent News
| | | |
| --- | --- | --- |
| | Performance Job Listing - London - Honky Tonk/Jazz Piano Accompanist | |
Honky Tonky/jazz pianist/accompanist wanted
I'm very excited to have been given a slot at the Green Note Basement Bar in Camden for 20th December to perform and now need to find a local NW London (if possible) pianist interested in 30s blues (Bessie Smith/Blu Lu Barker, etc.) and jazz standards for a set I'm putting together. Ideally I'd like to find someone who wants to perform with me on a semi-regular basis (say 1-2 times a month).



| | | |
| --- | --- | --- |
| | Performance Job Listing - Georgetown, Kentucky - Accompanist/Pianist | |
Prepare for and provide piano accompaniment for congregation, choir, solos, vocal groups and guests, instrumentalists, etc. during Sunday services and other designated special services (e.g. Good Friday, Deacon Family Communion, Christmas Eve, etc.) as well as piano solo pieces for assigned parts of each service.

Prepare for and provide piano accompaniment for weekly Wednesday choir rehearsals and other "called" rehearsals with advance notice.

Collaborate with worship coordinator and other musicians (i.e. organist, other instrumentalist or pianists, vocalists) to enhance worship.



| | | |
| --- | --- | --- |
| | Performance Job Listing - Grayson, GA - Part-Time Piano Accompanist | |
Community of Grace Lutheran Church (ELCA), Grayson, GA Part-Time Piano Accompanist
Qualifications:
• Attested skills in piano performance
• Ability to sight read music
• Prior experience as a piano accompanist
Responsibilities:
• Piano accompaniment for Sunday worship (9:30 am and 10:45 am) on a weekly basis
• Piano accompaniment for one hour evening choir practice on a weekly basis
• Piano accompaniment for special music events & services – Mid-Week Advent services & Christmas Eve Services, Mid-Week Lent & Holy Week, Easter Sunday, Vacation Bible School, Children's Christmas Production, Funerals, Weddings, etc.
• Other duties as assigned by the pastor
Pay:
$50 per 1 hour Sunday service (average Sunday is 2 services) and 1 hour special services such as Ash Wednesday.
$40 for 1 hour weekly rehearsal and for 1/2 hour special services such as mid-week Lent/Advent services.