View some of our members...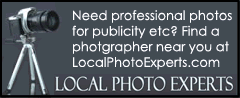 Register your chamber group or search for chamber groups near you.
It's free and easy to use...
| | |
| --- | --- |
| Click Here | |
Piano Accompanists - Recent News
| | | |
| --- | --- | --- |
| | Performance Job Listing - NYC - ASSISTANT MUSICAL DIRECTOR/PIANIST | |
TO RUN THE AUDITIONS, VOCAL TEACHING OF THE SONGS, AND PERFORM WITH THE BAND, FOR A CONCERT VERSION OF A NEW JAZZ MUSICAL BASED ON THE BOOK AND FILM, THE GRIFTERS. AUDITIONS MARCH 2ND AND 3RD. REHEARSALS BEGIN ALMOST RIGHT AWAY. SINGLE PERFORMANCE ON APRIL 2ND AT MANHATTEN MOVEMENT AND ART SPACE . HOURLY RATE BASED ON EXPERIENCE.

CONTACT JOE GIUFFRE ASAP AT 323 493 8203



| | | |
| --- | --- | --- |
| | Performance Job Listing - New York, NY - Accompanist for Weddings in NYC/Hudson Valley/Westchester | |
We are a newly formed sister vocal duo (each having 15+ years of experience in classical singing) based in NYC specializing in classical/opera for wedding ceremonies and receptions.

We are seeking classically trained pianists/organists who are open to collaborating for wedding gigs in the NYC area (5 boroughs) and Hudson Valley/Westchester, and most importantly, who have the availability to play for Friday/Saturday weddings (in addition to other days of the week) within the 2017-2018 wedding season, and who can rehearse on a continual basis throughout the year.

We are focusing on wedding ceremony music to begin (examples include the various arrangements of Ave Maria, Panis Angelicus, The Flower Duet from Lakmé, The Prayer, Con Te Partiro, O mio babbino caro, Laudate Dominum, Bellini / Donaudy art songs, Bist du bei mir, Jesu, Joy of Man's Desiring, Ave Verum Corpus, etc) then expanding into reception music which would include light musical theater, Gershwin and Cole Porter standards, classic love ballads, Karen Carpenter, etc.

There may also be the possibility of your own solo playing if a couple requests additional solo piano music, however that is not the focus of our group.

It would be a plus if you own a keyboard that is suitable for transport, and if you have a car.

Due to schedule complexity we are building a list of "go-to" pianists that we can call upon, so we are not necessarily seeking a permanent member of the group, though if that were to occur, we'd be pleased.

We are also in the planning stages of filming a promotional video seeking a pianist to play during filming.

If interested in any of the above, in your response please provide the following in the form of a website link or an accessible attachment:

-Two contrasting audio clips of your classical playing
-Two contrasting audio clips of your accompanying classical vocalists
-A performance bio, resume and headshot
-A description of your experience playing for weddings and/or holy services, if any
-Two references with contact information
-A prepared/estimated requirement of salary for an hour of accompanied ceremony music (including travel, performance, rehearsal logistics), this would be adjusted slightly according to booking preferences/needs
-The location of where you are based
-Your preferred availability for rehearsal throughout the year
-Dates you are NOT available for weddings between 2017-2018

Thank you for your consideration, and we look forward to hearing from you!

-The Bel Canto Beauties

View More Details - Accompanist for Weddings in NYC/Hudson Valley/Westchester



| | | |
| --- | --- | --- |
| | Performance Job Listing - Hayward, CA - Church Pianist/Accompanist | |
Starr King Unitarian Universalist Church, in Hayward http://starrking.org/ needs a church pianist/accompanist.

Under the direct supervision of the minister, the Church Pianist serves as soloist and accompanist for Sunday morning services, choir rehearsals, and some special services (Christmas Eve). The beginning salary is $500 per month.

Each year, the pianist plays at 40 services, accompanies the choir, including 20 one-hour rehearsals that precede the service, and attends monthly staff meetings. For each service, the pianist provides suitable pre-service music, a prelude, an offertory, and a postlude, and leads/accompanies the congregation in hymns or other music chosen collaboratively.

Required Skills and Qualifications:
1. Experience as an accompanist, preferably in a church setting.
2. Good sight-reading skills.
3. Ability to read and play from open choral scores.
4. Broad knowledge of standard piano repertoire.
5. Ability to select music suitable to the theme of the service.
6. Ability to work collaboratively and supportively with amateurs.

Desirable Skills and Qualifications:
1. Ability to play multiple genres.
2. Ability and willingness to direct the choir at rehearsals and during performances.

If you're interested in this position, please reply, or call 510-786-7784.