View some of our members...
Tarana Taylor
(Houston, United States)
Tarana Taylor is a classically trained diverse pianist highly experienced in solo, vocal,...
Jennifer McCabe
(Chicago, United States)
Jennifer K. McCabe is a collaborative pianist, vocal coach and music director, who has wor...
Tingting Yao
(Memphis, United States)
Chinese pianist Tingting Yao has been playing the piano since the age of three and winning...
Brittany Kohl
(Tacoma, United States)
• B. Kohl Studio, Private Piano Lessons and Accompanying - ('01 - present) • Wedding perf...
Rebecca McDonald
(Houston, TX, United States)
I have worked as an accompanist for more than 25 years. I have accompanied many choirs, v...
Click here for full directory of members...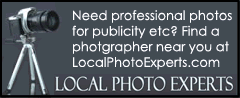 Register your chamber group or search for chamber groups near you.
It's free and easy to use...
| | |
| --- | --- |
| Click Here | |
Piano Accompanists - Recent News
| | | |
| --- | --- | --- |
| | Performance Job Listing - Colorado Springs - Piano Accompanist for Ballet classes | |
| | | |
| --- | --- | --- |
| | Part-time piano accompanist needed for ballet classes at Colorado College in Colorado Springs. Mon, Weds, Fri afternoons. Begins in September. Contact Debbie Mercer, instructor: ballerina11235@gmail.com or Shawn Womack, chair of Theatre and Dance: shawn.womack@coloradocollege.edu | |
| | | |
| | | |
| --- | --- | --- |
| | Performance Job Listing - Tenafly, NJ - Chorus Accompanist | |
Chorus Accompanist
JCC Thurnauer School of Music
Tenafly, NJ

The JCC Thurnauer School of Music (Tenafly, NJ), New Jersey's leading community music school, seeks a pianist to accompany their 100+ member youth choir, the Young People's Chorus at Thurnauer, an affiliate of the YPC of New York City. Rehearsals: Monday 3:45-6:30pm, Tuesday 3:30-4:30pm, Thursday 3:15-5:00pm and Friday 3:30-4:30pm and performances approximately once a month. Must be comfortable playing different styles of music and have access to a car. Salary based on experience.

To be considered for this position, please e-mail a résumé and cover letter to George Berry at gberry@jccotp.org.

NO PHONE CALLS, PLEASE.

EOE



| | | |
| --- | --- | --- |
| | Job Listing - San Francisco, CA - Piano Accompanist | |
Piano Accompanist Needed for the Young Women's Choral Projects of San Francisco

Duties:
• Regular accompanist for an advanced young women's chorus in San Francisco, conducted by Dr. Susan McMane
• Accompany rehearsals Wednesday evenings 6:30-9pm; and Sunday afternoons 3-6pm. Plus, one Saturday a month there will be a longer rehearsal from 10:30 – 12:30 (sectionals where accompanist will help out) and continuing from 1:30-4:00pm (full group rehearsal). No Sunday rehearsal those weekends
. • Accompany approximately 7 concerts in the Bay Area during the 2012-2013 season

Skills:
• Ability to read open score for 4-part treble music
• Ability to accompany difficult choral music
• Rehearsal and performance accompanying experience needed
• Some organ and harpsichord experience preferable

Start date: September 5, 2012

Salary: Rehearsals $50 - $60/hour, commensurate with experience; Performances $180 each

This is a contract position from September 2012 through June 2013.

Send cover letter and resumé to: info@ywcp.org