Displaying Competitions

2021 NTD International Piano Competition
- New York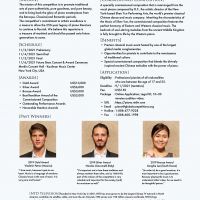 🎵 Features repertoire from the Baroque, Classical, and Romantic eras
. 🎵 The specially commissioned composition blends melodies from Shen Yun Performing Arts with the power of the piano.
 🎵 Live-streamed via the multilingual websites and social media channels of NTD & The Epoch Times....
read more
---
Welcome to PianoAccompanists.com jobs and listings. Here you can advertise competitions, courses, instruments for sale, performance jobs and teaching jobs. To advertise your job or listing, simply select 'Add your Competition' above. All paid listings are posted in our directory and also featured live on our homepage.