View some of our members...
Asher Severini
(Santa Barbara, United States)
Hello! I am an accomplished accompanist currently pursuing my Doctorate at UCSB in colla...
Muqiao Zhou
(Singapore, Singapore)
A recipient of the RCM Study Award, Muqiao went on to study piano with Andrew Ball and pia...
Karen Newby
(Rochester, Kent, United Kingdom)
Karen Newby LTCL, GTCL www.karennewby.co.uk I studied piano with John Bingham at Trin...
Vincent Howard
(Indianapolis, United States)
I've played the piano for nearly 40 years. I can read, write, and produce music very well...
Rebecca McDonald
(Houston, TX, United States)
I have worked as an accompanist for more than 25 years. I have accompanied many choirs, v...
Click here for full directory of members...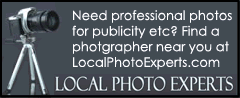 Register your chamber group or search for chamber groups near you.
It's free and easy to use...
| | |
| --- | --- |
| Click Here | |
Piano Accompanists - Recent News
| | | |
| --- | --- | --- |
| | Performance Job Listing - Tenafly, NJ - Piano Accompanist | |
The JCC Thurnauer School of Music, the largest music school in Northern NJ is looking for several piano accompanists to play for private instrument and voice lessons on one or more of the following days:

Sundays: 9:30-12:00pm
Mondays 3:45-7:00pm
Tuesdays 3:45-7:00pm
Thursdays 3:30-7:00pm

Pay is competitive.

Please email Emma Brondolo, ebrondolo@jccotp.org if interested.



| | | |
| --- | --- | --- |
| | Performance Job Listing - Killin Stirlingshire FK21 - Accompanist/ Choral experience | |
| | | |
| --- | --- | --- |
| | We are looking for an accompanist for the Killin Community Choir. We are a non status choir who rehearse most Tues from 7.30-9.00 in the Killin Parish Church. We sing and perform a varied repertoire. 2019 will be our 10yr anniversary. Sightreading is essential. | |
| | | |
| | | |
| --- | --- | --- |
| | Performance Job Listing - National Liberal Club 1 Whitehall Pl, Westminster, London SW1A 2HE - Pianist is needed for a concert of Italian operatic music (Summer Annual Gala, black tie event) at The Na | |
Pianist is needed for a concert of Italian operatic music (Summer Annual Gala, black tie event)
at The National Liberal Club (private members' club) http://www.nlc.org.uk, Whitehall Place, London, SW1A 2HE. 7 pm to 9pm on 9th of August

Pianist would need to be familiar with Traviata, Boheme Madame Butterfly , Tosca duets for tenor and soprano. Payment is £600 paid by club upon receipt of the invoice

there will be 2 parts 45min each, during each part pianist would need to play 2 solos (overtures to one of the well known Italian operas)


there will be 2 rehearsals before the event:
first one 5th August Monday 11-1pm Central London Close to Bond Street

second one 7th of August 11-1Pm at National Liberal Club

third 6pm-6.30Pm on 9th of August at National Liberal Club


Dear Pianists, it would be great to have links to the videos with your live performance where you play preferably, Italian operatic music. Thank you

View More Details - Pianist is needed for a concert of Italian operatic music (Summer Annual Gala, black tie event) at The National Liberal Club 9th of August 2019