View some of our members...
Daniel Padgett
(Cambridge, MA, United States)
-B.M. Florida State University; M.M. Longy School of Music of Bard College -over a dec...
Brian Zane
(Chicago, United States)
I've been playing piano since I was 8 years old. I've had many professional gigs which inc...
Nicholas Place
(New York, United States)
I regularly Music Direct professional opera and musical theatre productions throughout the...
Maria Gorodetskaya
(Los Angeles, United States)
Maria Gorodetskaya, the pianist/accompanist, graduated from the University of Florida with...
Yafei Lin
(Arcadia, Claremont., United States)
Master's Degree in Piano Performance, CSU Northridge Over 15 years collaborative experi...
Click here for full directory of members...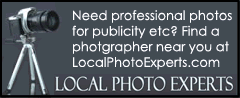 Register your chamber group or search for chamber groups near you.
It's free and easy to use...
| | |
| --- | --- |
| Click Here | |
Piano Accompanists - Recent News
| | | |
| --- | --- | --- |
| | Performance Job Listing - Savannah, GA - Vocal Instructor/Accompanist | |
SCAD Savannah seeks an accomplished teaching artist who will direct entertainment for SCAD Savannah with the goal of creating a vibrant musical presence on the campus. The successful candidate will have experience in or knowledge of cabaret performance, accompanying and working with student singers, arranging re-imagined versions of standard Broadway and pop tunes, and creating unique short-form musical performances using solo and groups and will work within the performing arts department. The successful candidate will be first and foremost an outstanding pianist, accompanist, musical arranger and entertainer with a unique musical style. The candidate will work with students to create mini-performances in a variety of situations throughout the academic year. Valuable assets include a strong and varied knowledge of all musical performance repertoires, the ability to teach private voice lessons, program events with suitable repertoire, strong sight reading skills and be able to adjust to a wide variety of situations. A bachelor's degree in a related field is required; master's degree is preferred. The ideal candidate is a team-player who is comfortable working in a collaborative environment and someone who can work quickly and make fast adjustments. The person should have experience working with and coaching talented students, have a good ear, be able to stage simple choreography and be able to create self-contained musical shows that range from 10 minutes in length to entire evenings.
The candidate will work directly with the offices of events and conferences, admission, and the president's office to ensure the performances represents the college throughout the academic year in an effective manner and will take the initiative to recruit for the ensemble under the direction of the admission office and the performing arts department. In addition to fulfilling the entertainment facets of the position, the candidate will also teach voice lessons, play for classes and auditions and other assignments as needed. Please submit resumes of both teaching and performing experience, a short letter of introduction explaining your suitability and interest, and three references.
For complete submission requirements, please visit our website using the URL listed and follow application instructions:
https://scadjobs.com/applicants/Central?quickFind=53122
Should you have questions regarding your application package, you may submit an email to Human Resources at scadfaculty@scad.edu.



| | | |
| --- | --- | --- |
| | Performance Job Listing - Storrington, West Sussex - Choir Accompanist | |
The Sandgate Singers - a local community choir based in Storrington West Sussex of 70 strong - are looking for an accompanist to join us in January 2013. Rehearsals are on Monday evenings during term time at Storrington and Sullington Parish Hall between 7.30 to 9.30pm
Position to help prepare - in conjunction with the Musical Director - the choir for 4 concerts a year; one with orchestra, two with organ/piano and a light summer programme. A wide range of music from classical to contemporary choral works is covered.
Excellent piano skills and a good sense of humour needed. Experience of playing an organ an advantage but not essential. Pay depending on experience.
For more information about this post please contact our chairman, Noreen Gazey, on nkfamilygazey@aol.com.
Our website is www.sandgatesingers.org.uk
Deadline for receipt of applications: Friday 26 October.
Auditions to be held at a mutually convenient time. To apply please submit your c.v. to the chairman.



| | | |
| --- | --- | --- |
| | Performance Job Listing - Juneau, Alaska - accompanist for musical | |
We are looking for an accompanist both for rehearsal and to play the pit in Oklahoma! here at Perseverance Theatre in Juneau, Alaska.

Rehearsals begin Oct. 2. Show opens Nov. 9 and closes Dec. 9.

The contract is paid, and housing and airfare are provided.

Accompanist must be able to sight-read.

For more information, contact Shona Strauser at (907)364-2421 ext. 232 or shona@perseverancetheatre.org.